The UCF Arboretum Learning by Leading™ (LxL) Program
The Arboretum launched its Leaning by LeadingTM (LxL) program in fall semester 2019. This innovative student leadership development program was developed by the University of California Davis Arboretum, and is being implemented by other university arboretum and public garden programs in the US and Canada. The motivation for the program is "to inspire human potential and to help people and environments thrive." The program is based on the notion that students learn best by leading, and it includes a stepped leadership progression that moves students from participants to active leaders and co-creators of Arboretum programs. Under the guidance of a staff mentor, co-coordinator teams manage student interns and volunteers to execute program initiatives and signature projects. Interns can enroll for 0-3 credit hours in spring or fall semester. Applications are due in April and November. Interested students can contact us through social media or email us at arboretum@ucf.edu.
Learning By Leading Teams
Ambassador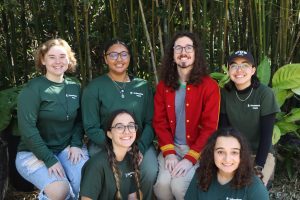 The Ambassador LxL positions aim to seek out outreach opportunities that the Arboretum can take part in. Our team registers the Arboretum for various on and off campus events where we can share about our program and mission. Ambassador Coordinators and their team collaborate with all other teams to have our student coordinators and interns represent us at these events. We strive to educate individuals about the various aspects of the Arboretum Program including, but not limited to: Urban Agriculture and Horticulture, Natural Lands Management, Pollinators and Pollinator Gardens, and Native Florida Ecosystems. In addition, our team assists with day-to-day office tasks and management.
Community Farm and Gardens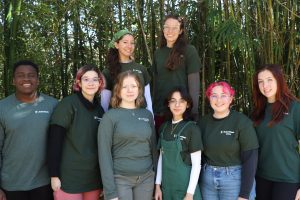 The Community Farm and Gardens LxL positions aim to emphasize the importance of urban vegetable gardens and their role in personal health benefits to our student body as well as local individuals. Urban farming is becoming increasingly popular in large cities, and our gardens are small showcases of what is possible in the middle of a very urban setting. Our team plants crops seasonally and assists in general maintenance of the garden daily, while also harvesting produce to take to our Knights Helping Knights Pantry on campus. Creating a space where students can come to learn the how-to's, positive health aspects, and overall benefit of urban organic gardening is our mission. We strive to grow our food with care, love, and overall gratitude for the opportunity to teach and feed our fellow Knights.
Greenhouse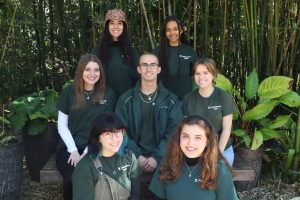 The Greenhouse LxL positions aim to teach different methods of plant care and growing techniques in addition to showcasing how our greenhouse is utilized. Our team uses the Arboretum Greenhouse to start some vegetable and herb crops for the community gardens, while also caring for plants intended for landscape installation, plant sales, giveaways, etc. Greenhouse Coordinators and their team teach different methods of growing plants such as propagation, transplanting, and grafting. We strive to educate individuals on how to best care for their plants to assure they have the healthiest plants possible so they, too, can grow their knowledge.
Land Management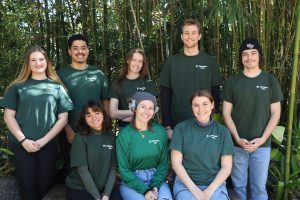 The Land Management LxL team focuses on helping UCF Landscape and Natural Resources meet management goals for our Natural Lands. The goals are to preserve and restore existing natural habitats for ecological, conservation, and educational purposes, and to use the existing natural habitats as reintroduction sites for listed and endangered species. Our current projects include gopher tortoise monitoring, invasive species mitigation, wildlife camera tracking, prescription fire program support, and ecological education.
Media and Marketing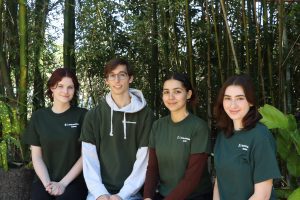 The Media and Marketing LxL positions aim to create content for our various social media platforms: Facebook, Instagram, and Twitter. Our team takes photos and films our other LxL teams working in their various gardens, recording and creating educational and informative short videos about our program. Marketing and Film Coordinators and their team collaborate with all other teams to ensure we are featuring the unique jobs each team has, along with their projects. We strive to capture the most important aspects of the Arboretum Program to share with our social media followers to educate those interested in the Arboretum and what we do.
Pollinator Gardens / Bee Campus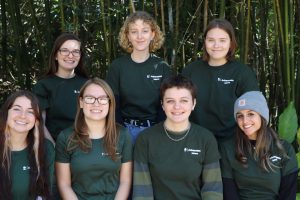 The Pollinator Gardens and Bee Campus USA LxL positions aim to emphasize the importance of creating an oasis for pollinators among our rapidly urbanizing society. Pollinators are vital to both ecological biodiversity and health, as well as human health and crop consumption. Our team creates and designs gardens on campus, which provide pollinators with rich sources of nectar and pollen, as well as host locations for larvae of butterflies and moths to be raised. Creating gardens in the consistently warm and wet Florida environment means that we are constantly learning about how plants grow and how to accommodate the needs of pollinators. We strive to teach others about how to help pollinator populations and maintaining gardens.
Stormwater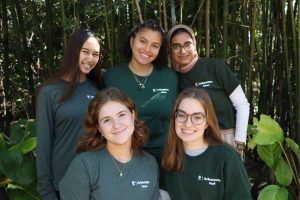 The Stormwater Compliance and Management LxL team works directly with UCF's Utilities and Energy Services department to aid in the upkeep, visibility, and expansion of our campus stormwater systems. UCF is home to a large network of stormwater drains, pipes, pumps, and ponds that our students help to manage and inspect. Our team's responsibilities include: aiding with tracking and reporting permit requirements to ensure no harmful pollutants enter our local waterways, inspecting pump stations, baffle boxes, and curb inlets, reviewing data and reporting necessary repairs for damaged pipes, testing water quality, researching and working to implement green infrastructure solutions such as rain gardens on campus, managing the Adopt-a-Road and -Pond programs, and more. Our goal is to keep our campus and the surrounding watershed pollutant free while raising awareness of the great impact that good stormwater management can have on our community and environment.
Sustainability Initiatives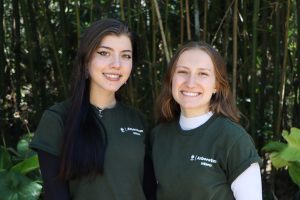 The Sustainability Initiatives team seeks to create an environment where ideas are freely shared, partnerships are formed, and solutions are uncovered in the pursuit of environmental, economic, and social sustainability. We understand that the complex global challenges of today impact us all, and recognize that they cannot be solved alone. That is why we are heavily invested in building relationships within our community, partnering with local organizations, neighboring colleges, and key stakeholders to achieve these goals. Our primary focus is to engage with multiple campus stakeholders to evaluate and understand how UCF is currently overcoming sustainability challenges and to identify future avenues to promote sustainable growth and change for years to come. With an eye to the future, our vision is to continue expanding our team and create a campus environment that educates and prepares the leaders of tomorrow.
Urban Forestry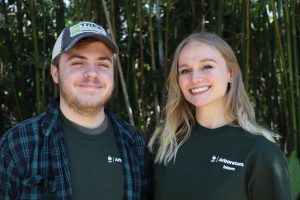 The Urban Forestry Learning by LeadingTM (LxL) Team, partnered with the UCF Landscape and Natural Resources Department (LNR), represents an award-winning program, holding a nationally recognized certification by Tree Campus Higher Education since 2012. The Urban Forestry LxL team aids LNR in expanding the Urban Forestry Program by assisting in the planting, monitoring, and continued maintenance of campus trees while increasing personal and public knowledge of all trees and their proper care. As urbanization continues to accelerate and cities expand into natural areas, it is imperative to find ways to incorporate a natural tree canopy into our urban environments. In urban areas, trees have been shown to have numerous benefits—specifically environmental and economic benefits such as: improving air quality, providing habitat for local fauna, and providing shade to walkways and buildings which can lower utility costs. Health and psychological benefits are also of high importance as spending time around trees has been shown to reduce both blood pressure and stress.
Urban Horticulture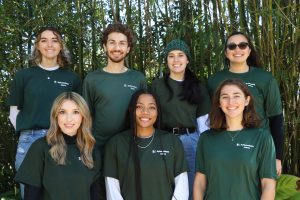 The Urban Horticulture LxL team's focus is on the development and maintenance of the 8-acre parcel where the Arboretum office is located, the Arboretum Park. The Park, as we often call it, is at the heart of our program. The development and maintenance of gardens, landscapes and trails that create the sense of community that the Arboretum stands for is the role of the Gardens team. In 2019 the Arboretum Park Master plan was unveiled, and since that time our team has had an active role in the decision-making process for implementation of that plan. We design, install, and maintain gardens that honor the past, present, and future of UCF and the Arboretum program. We work with faculty, staff, students, and community partners to ensure that all voices are heard and represented in our landscape designs. We believe that developing this site with input from all these groups will allow us to create a space that is beautiful and inviting, where all feel welcome and safe. We strive to create a warm and inclusive space for all of us to grow together, with nature.