Welcome to the Greenhouse Garden!
The Greenhouse Garden is maintained by the Pollinator Team at the Arboretum. The garden is located next to parking lot C3, and surrounds the Arboretum Greenhouse. Explore the garden to find more info about its plants and pollinators!
History
The original Arboretum Greenhouse was known as the Stockard Conservatory, and was a donation to UCF. Natural degradation throughout the 90's and hurricanes in 2005 left the greenhouse in poor condition, and it was reconstructed in 2006. Some glass from the original greenhouse was able to be salvaged and used in the new structure. Now, the greenhouse is primarily used as a teaching space, as well as for propagating new plants, rotating seasonal crops, and storing plants between plant sales.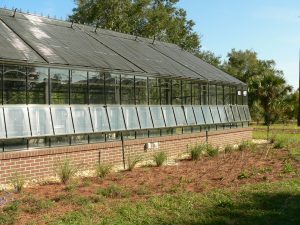 Banner image taken by Willow Hearne.
Greenhouse Garden image from https://www.green.ucf.edu/landscape/landscape-architecture/current-enhancements/greenhouse/.